Garage Door Repair & Service Orlando
Garage Door Repairs In Orlando, FL can be more than just inconvenient. It can leave your car vulnerable to break ins, harsh weather conditions as well as several other harmful scenarios. If your garage door is broken, needs a new piece or simply needs to be replaced, call United Garage Doors.
Our mechanics and technicians are specialized professionals that are skilled in everything from door rollers to garage door openers. Don't risk furthering the problem and potentially injuring yourself. Let the professionals at United Garage Doors take care of you and your door.
There are six key areas of your garage door that can break or become damaged. Whether it become damaged from excessive use, rough weather, or a innocent accident, you'll want our skilled professionals to come in, check out the problem and repair or replace anything that is stopping the door from functioning properly. We'll check for all of the following to make sure we have everything covered:
Bent Tracks
Broken Drums
Broken Springs
Damaged Door Sections
Broken Rollers
Broken Cable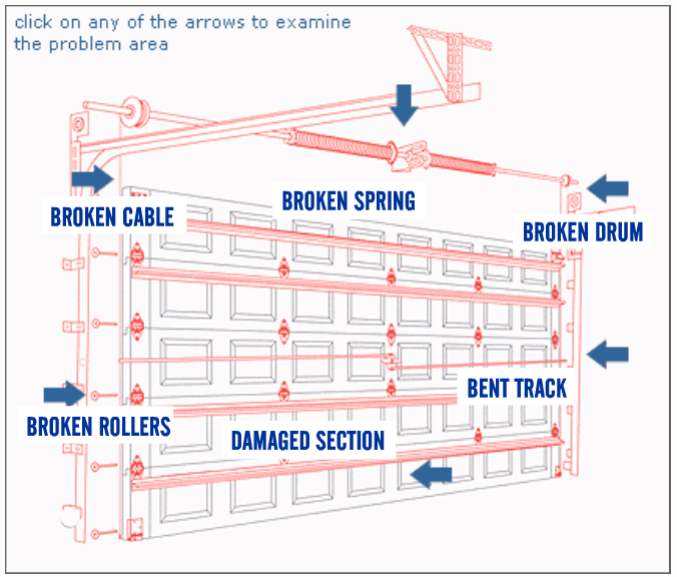 ---
Some of Our Most Requested Specialties are:
Broken garage door springs, cable, or rollers
Garage door off track
Unable to open garage door
Damaged garage door section  or bent
Garage door stripped gear
Garage door wont open and/or close
Garage door stops part way while opening and/or closing
Need extra garage door overhead remote control or keyless pad
We also cover a variety of services of than repairs and replacements. If you notice any of the following issues with your garage door, give us a call and we'll be happy to come help you out.
Stripped Gear
Won't open or close
Remote not working
Stops part way up or down
Need extra Garage Door Openers or a keyless pad
Have broken springs, cable, or rollers
Door off track
Can't open door
Damaged door section or bent
---
With over 35 years of combined experience and knowledge in garage doors and garage door openers, United Garage Doors is Central Florida's premier choice for garage door services. We install garage doors and openers from leading brands like LiftMaster and Clopay, and have years of experience in both residential and commercial garage door services. For all your garage door needs, give us a call and let United Garage Doors doctor your door!
ASK FOR A QUOTE
Thank you for your interest in United Garage Doors of Central Florida. If you need immediate assistance, please call us directly. We have technicians on-call for all of your emergency garage door service needs. If you prefer to contact our representatives via website, a garage door expert will be in contact with you within the next 2 business days. Your business is important to us and thank you for your interest in Orlando's Premier Garage Door Company.